School & Science clubs, Summer Camps in Ghana
School & Science clubs, Stem Education, Summer Camps in Ghana
Research has proven that children learn and retain information as they learn through play.
All through our educational system, Ghana has seen tremendous growth in activities in relating to child development.
It is not shocking as to why many educational institutions have adopted to establishing science clubs for students.
But interestingly, many questions arise all the time.
Are these institution trained? Here is where Terrific Scientific Busters (TSB) comes into place.
TSB specializes in making science and technology entertaining and educational for kids in a fun way.
The core objectives of TSB are to:
Create an environment that allows kids to have an adventure with science.
Ignite a love and confidence for the subject matter.
Improve knowledge by introducing basic topics and concepts to lay a foundation for the future.
Develop skills in scientific problem-solving, communication, leadership and teamwork.
Inspire the possibility of a future career in science.
Terrific Scientific Busters organizes periodically Science Parties for kids and Summer Camps in Ghana, Birthday parties for kids through STEM education.
STEM is important because it pervades every part of our lives. Science is everywhere in the world around us.
That is why at Terrific Scientific Busters, science workshops are designed to stimulate the natural curiosity and boundless imagination of children in a safe environment.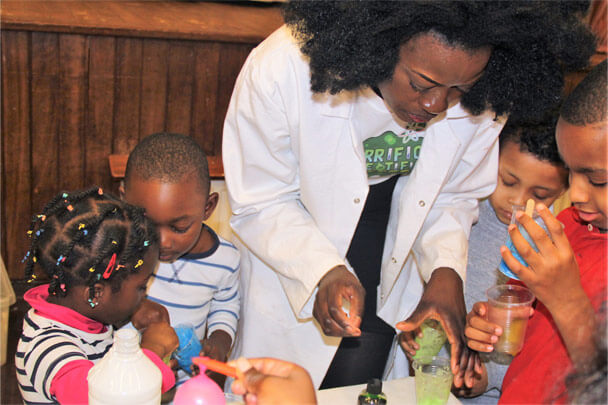 More About Terrific Scientific Busters
Terrific Scientific Busters was founded by Vanessa Mensah, an Early Childhood Studies graduate with a love for science and a passion for children!
With almost 9 years of experience working with children in the United Kingdom in the education sector, Vanessa discovered the joy of inspiring children.
Through the aim to create a service which enabled all children to experiment, discover and be inspired, Terrific Scientific Busters was created.
Terrific Scientific Busters provides an opportunity for children to get hands-on with science in the most imaginative and fun way possible.
Children observe, ask questions, touch, smell, and taste whilst they engage in science through an entertaining and stimulating learning experience.